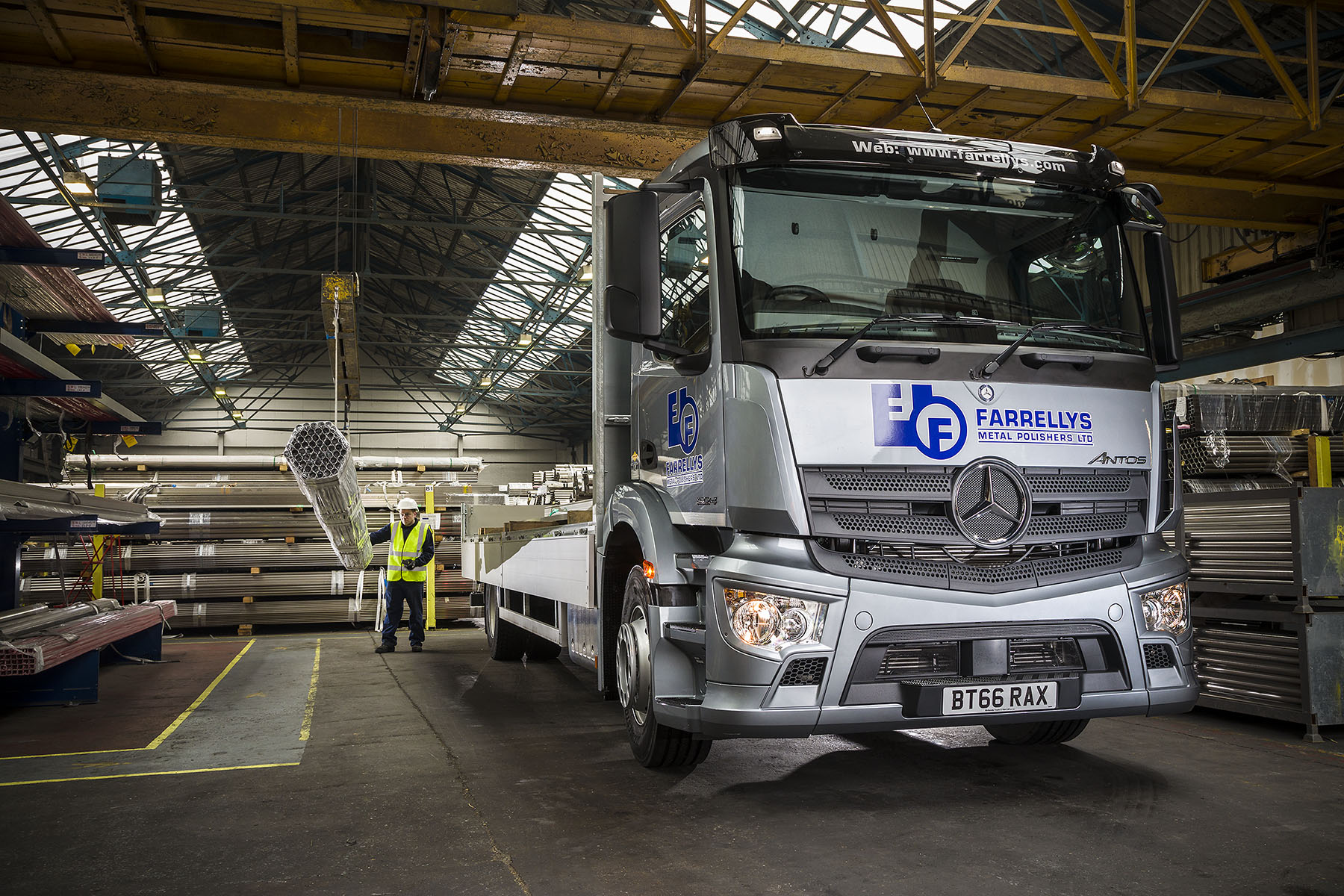 So taken was Steve Finnegan Jnr with the appearance of the Mercedes-Benz Antos demonstrator he was shown by Dealer Midlands Truck & Van that he replicated it when ordering his company's new 18-tonner shortly afterwards.
Steve is the general manager of Black Country metal polishing firm Farrellys – his father, Stephen senior, is Managing Director of the third-generation family concern.
Their new flagship shares the same ClassicSpace S-Cab in metallic grey paint with optional colour-coded bumpers and external sun visor as the Antos curtainsider in which Truck Sales Executive James Smith arrived at their factory in Wednesbury. Steve said: "We'd invited quotations from several manufacturers' agents but some didn't even bother to respond. Midlands Truck & Van were certainly the only ones who took the time and trouble to come and see us. "James was clearly eager to win our business while I really liked the sleek styling of the Antos he brought out for us to look at. So I used the demonstrator as the template for our own vehicle."
The largest independent nonferrous metal and tube polisher in Europe, Farrellys serves customers from the automotive, architectural, marine, brewing and food industries among others. Its impressive client list includes the likes of Princess Yachts, Louis Vuitton, One Hyde Park, the O2 Arena and the new Grand Central in Birmingham.
The company's 30,000 sq ft factory has five overhead cranes which ensure easy loading and unloading of products.
The new truck is now making collections and deliveries, predominantly within the West Midlands region. It has a 5800 mm wheelbase – the eighth longest of the 11 available for the 18-tonne Antos range – and is fitted with a 26ft dropside body by Fred Smith & Sons, of West Bromwich. Driver Peter McKeown was delighted to bid farewell to his previous, ageing truck, which was by another manufacturer and taken in part-exchange by Midlands Truck & Van. "Peter still can't believe his luck," said Steve. "It's as though all his Christmases have come at once."