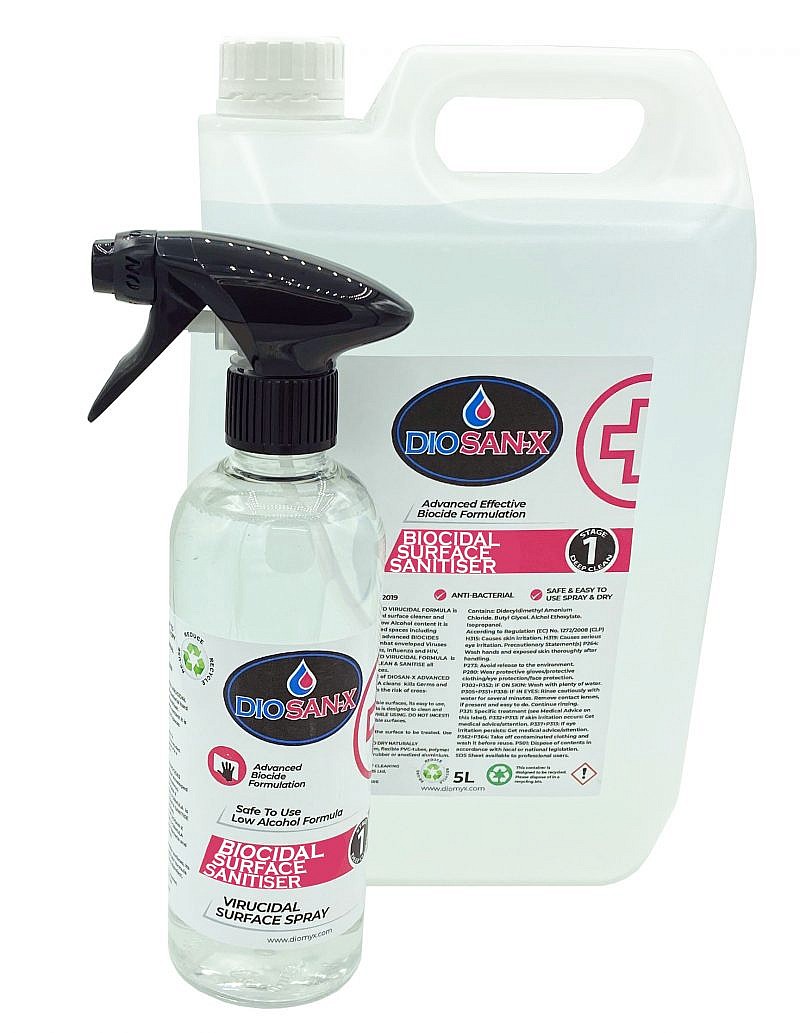 Derbyshire based Automotive Chemical Manufacturer Ecofleet Cleaning Solutions Ltd have announced the launch of their new DIOSAN-X Range of Hygiene & Sanitising products.
Aimed primarily at the Road Haulage sector, the DIOSAN-X Range offers alternatives to high Alcohol Sanitisers in confined environments such as Truck Cabs.
The World Health Organisation stated very early on in the Covid-19 Pandemic that the only material to kill this particular strain of the Virus was Alcohol at a minimum concentration rate of 65%.
However many world renowned Scientific Chemical organisations set to work to refine existing Biocidal Chemicals previously used to combat Influenza and HIV for use against the C-19 Virus.
DIOSAN-X Biocidal Surface Sanitiser is one of those products… DIOSAN-X is the alternative to Alcohol based Sanitisers and has passed stringent Independent Laboratory Testing to BS EN 1276:2019 which is the evaluation of bactericidal activity of chemical disinfectants and antiseptics used in food, industrial, domestic and institutional areas.
Because it is produced with high grade Biocides and less than 1% Alcohol, DIOSAN-X Biocidal Surface Sanitiser is a safer to use in confined spaces as an alternative to high Alcohol content Sanitisers.
The DIOSAN-X Range of Sanitising solutions form part of the Ecofleet Cleaning Solutions Ltd Cleaning & Hygiene portfolio designed to protect Professional Drivers and their families with advanced Workplace Hygiene Solutions.
More information at www.ecofleet-solutions.com