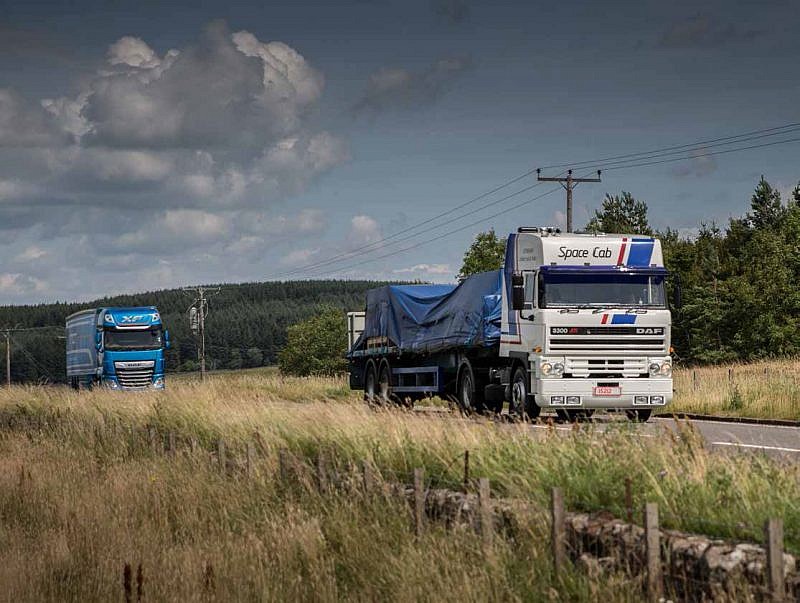 DAF 3300 ATi
Getting behind the wheel of a Daf 3300 ATi brought back memories of the good old days when driving a truck was a proper job. With its space cab this truck was ideal for the long haul and its contribution to the road haulage industry should not be overlooked. It's well documented that in the early 19th century a group of English textile workers and weavers destroyed weaving machinery. They feared that the time they'd spent learning their craft would be wasted as new machines would replace them, leaving them redundant.
Today, the term 'luddite' has become synonymous with anyone opposing automation, computerisation or new technologies. It's something not lost on today's truck drivers as technological experts scramble to build driverless trucks that will eventually put them out of work.
While its unlikely truck drivers will rampage through Leyland's factory carrying flaming torches and setting light to automated welding robots, it should not go unnoticed that the industry is being deskilled.
These days, lorry drivers only have to engage 'drive' on the transmission and then merely steer the truck between inanimate (and avoid animate) objects. Lane departure warning systems, hill assist and option to transfer weight to the drive axle for traction; a few hours behind the wheel of an all-new high-tech DAF XF540 that has these added extras before swapping to a 28-year-old 3300 ATi serves as a case in point.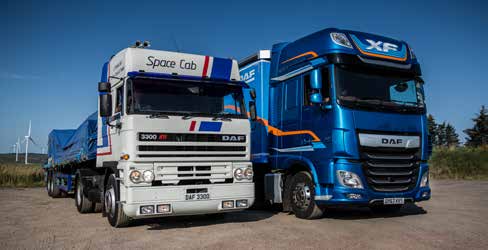 The road to the 3300 ATi
Sat waiting for me at the Redmoss Truckstop, just up the B7078 from M74 J13, were both trucks ahead of a day driving across Lanarkshire. First, the retro-classic. Launched in 1973, the 2800 range (with F241/2.41m wide cab) replaced the 2600 range, built from 1962 to 1974. This was augmented in 1982 by a new flagship, the 3300, with production of F241 models ultimately lasting until 1995.
With this distinctive livery as its launch colours, the first incarnation of SpaceCab arrived in 1984. The much anticipated 95 was still some way off and DAF needed something to maintain the interest of operators and bridge an inevitable price/ technology/image gap through to 95's eventual launch in 1987.
SpaceCab was DAF's initial response. Volvo already had Globetrotter that set the standard as the largest cab on the market. SpaceCab heralded a wave of 'standing height', long-haul cabs from other competitors.
DAF's ATi (or Advanced Turbo intercooling) range arrived in 1985. This incorporated many of the driveline upgrades scheduled for 95, taking the 3300 to 354hp and launching another new flagship, the 3600, at 373hp. The 1987 launch of 95 coincided with the merger of DAF with Leyland Trucks/Freight Rover to create Leyland DAF UK branding with 95 and 80 Series (DAF-engined Leyland Roadtrain) taking over from 28/33/3600 to spearhead the new company's heavy truck range.
But that wasn't the end of DAF's F241 cab. The 28/33/3600 refocused its attention on non-mainstream export markets in Asia, Africa and the Middle East. It even got a new 'slatted grille' face and revised blue/grey interior materials carried down from the 95. And new models were added too; the 2900 and 3200, a few of which found their way to the UK.
And it's here where this truck enters the fray. Built in 1990, it is an export-only model most likely for Singapore or Thailand. It has little in common with the UK-spec 3300 of its heyday: a hub reduction drive axle with over-drive 16-speed transmission instead of single-reduction direct-top gearbox; air-conditioning; a fixed driver's seat; and electric-powered driver's window only.
But for whatever reason, this truck never made it out to the Far East. It was first registered in 1993 for the Irish Army (Ireland was deemed an export market for DAF) and in 22 years of active service, it clocked just 58,500 miles. On demob, the 3300 ATi was acquired by dealer group Lothian DAF who spent 18 months restoring it to its former glory.
Peter Symons was product marketing manager for DAF and Leyland DAF from 1984 to 1990. "Alongside a first-rate dealer network, the 2800, 3300 and 3600 were the bedrock of DAF's heavy truck success – and image – here in the UK," he says. "Operators loved the range for its simplicity, reliability and economy, and it was a hard act for the 95 to follow!"
Today the 3300 ATi enjoys iconic status as a retro-classic truck beloved by those who can now afford to restore it and relive their youth. And yes, this drive was eagerly anticipated. I last drove one in anger in the mid-1990s for a long-gone marquee hire company. Much of what I'd experienced returned in flashbacks; the narrow windscreen, an offset 16-speed transmission, convex mirrors with a built-in blind spot thanks to the very wide corner post, and the exhaust brake button on the floor. Needless to say, I loved it.
The journey
Using a tandem axle trailer with a five-tonne weight through the kingpin, the engine growled as it responded to my heavy right foot when setting off. The early changes were tentative because the amount of play in the gear selection meant I wasn't sure I had the right gear, and I didn't want to damage this recently restored truck.
Starting in 2L, up into 4L, then slap across from low range to high range, letting the gearstick find its resting point and then up into 5L. It took a while to get up to, and trundle along at, 30mph before gaining enough confidence to open it up, just a little. Down to 6L then up into 7L, from where split changes were introduced going up to 8H. I cannot remember the last time I used a splitter let alone wrote sentences about it. I loved it.
Suddenly block changes were introduced as we slowed, then we confidently accelerated up to 40mph, the speed limit for trucks on two-way A-roads in Scotland, in a timely fashion to suggest I had an urgent appointment with an RDC. Motoring up to 50mph on the dual carriageway was done with ease, and all the while reminiscing. Deploying the engine brake for descents required a four-gear block-change to force up the revs, and there were times that lugging down to 1,000rpm on the climbs felt like it was too much. It's easy to forget that yesterday's engines focused on using power more than torque.
I rediscovered that the lane departure warning system is the sound of leaves and branches brushing (not hitting) the nearside mirrors when getting too close to the edge of the road.
Out of the old…
By the time I'd finished driving the DAF 3300, part of me was glad it wasn't my truck five days a week. It required effort, forethought and concentration to drive it; it drained me mentally just keeping on the road. I also must acknowledge that this truck, with its SpaceCab, was, at least for a while, one of the best money could buy. And it's in that light that I want to remember it.
After being reluctantly hauled out of the cab to let someone else have a go, I was ushered into an XF530 6×2 tractor. There are some tenuous links between the pair. The 'SpaceCab' lives on, this one is a Super SpaceCab, the transmission is a ZF, albeit the TraXon 12-speed, it came with an engine brake and electric windows, and it uses diesel.
In truth there is no comparison, today's trucks are mechanical masterpieces that allow the driver to work in a safe environment with all the modern conveniences at the touch of a finger. It has adaptive cruise control, EBS and ABS to name just three. It's effortless to drive.
Yet the XF lacks the one thing the 3 300 can give a driver and that is chance to learn the skills required to master their craft. That sense of perspective in terms of hauling weight, lateral movement and the centre of gravity, judging distances and how to brake safely, and how to work through the gears in a way that protects the components (especially if you had to pay to replace them).
These are the skills luddites sought to protect, but which are increasingly dealt with by technology.