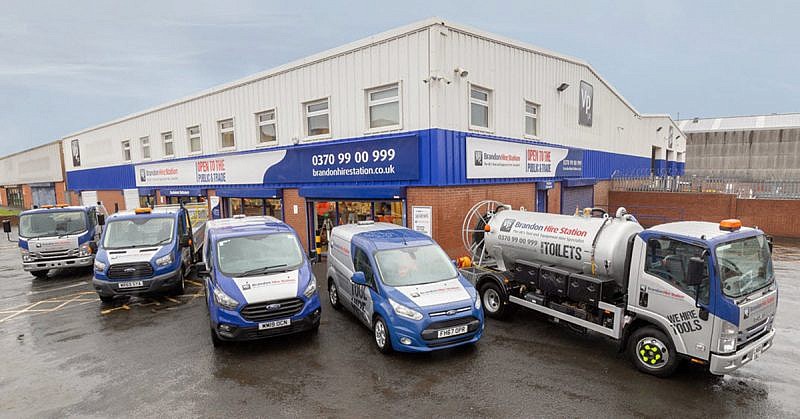 Lytx Case Study: Brandon Hire Station
Brandon Hire Station experiences exceptional results with Lytx in the face of business transformation.
The customer:
Formed through the acquisition of Brandon Hire by Vp plc in 2017, Brandon Hire Station brings together two market leaders in tool and equipment hire, and is now one of the UK's largest tool hire companies. It operates from almost 200 branches and caters to both professional and DIY markets while hiring out everything from carpet cleaners to mini diggers.
The challenge:
Brandon Hire Station prides itself on its efficiency, reliability and professionalism to provide the best possible experience for its customers. One of its biggest priorities is to ensure the safety of its drivers as they transport goods.
A fleet size of around 450 commercial and heavy good vehicles (HGV), typically making between two and three stops per journey, meant Brandon Hire Station needed to manage a complex web of logistical data every day. The company also encountered challenges in coaching its drivers; without the tools in place to provide personalised face-to-face coaching, fleet managers had to adopt a one-size-fits-all approach.
The company recognised its need for a video telematics solution that would improve safety, provide a deeper understanding of incidents and enable visibility to enhance its operational efficiency.
Additionally, the business needed to successfully integrate this new solution into its existing operations while maintaining a level of continuity and stability during a time of natural turbulence as two elements of the business merged in 2017.
Brandon Hire Station began trialling various solutions but struggled to find something that aligned with its individual requirements and company values.
Stuart Conway, Fleet Manager at Brandon Hire Station, said: "During the trial period, other solution providers were sending through up to 15 hours of video per day. That's useless because no one has the time to watch it all. We liked the fact that Lytx only sent us what we needed to see – they sorted the wheat from the chaff".
The solution:
After a successful initial trial, in 2016 Lytx's DriveCam® Event Recorder and Safety Programme was rolled out in 386 vehicles across the Hire Station, ESS SafeForce and MEPPLA fleets. Understanding how these divisions enjoyed continued success, Brandon Hire Station went on to install DriveCam® Event Recorders into a further 500 vehicles in 2018.
Lytx guided Brandon Hire Station through the entire implementation process; ensuring data quality throughout, as well as managing the change internally.
"The branches are being rebranded, they are getting new kit, so there is a feeling of renewed positivity in the air – the introduction of Lytx's Event Recorders was a key component of this," said Conway.
"The Lytx team ensured each of our drivers were involved in the transformation process from day one, which helped them feel as though the cameras were on their side – there to help in case they needed it in a risky situation where they were, in fact, blameless."
The results:
Reduced risky driving behaviours
Brandon Hire Station's fleet managers are now provided with the data and video footage they need to identify risky driving behaviours, such as following distance or mobile phone use, and use this footage to conduct more effective coaching.
In fact, since installing Lytx's solution, the tool hire company has seen a 64% decrease in risky following distance, a 23% reduction in late response times and a 47% reduction in other distracted driving incidents including mobile phone use.
"Overall, I'm really pleased with the success we've seen since implementing Lytx – I'm satisfied knowing that we're seeing strong results while making the roads a safer place," added Conway.
Improved understanding of incidents
Lytx leverages its proprietary machine vision and artificial intelligence technology to analyse incidents captured by event recorders in Brandon Hire Station vehicles. Not only does it capture the incident itself, but typically also 8 seconds of footage before, and 4 seconds after – so that the fleet manager sees the full picture, without having to watch hours of footage.
Intelligence into the factors occurring before an incident takes place can then be used to provide enhanced insight, and potentially exonerate drivers when they aren't at fault.
With the number of collisions being slashed by nearly 50%, and definitive accounts for any incidents which do occur, Brandon Hire's overall spend on insurance claims has also been reduced.
Enhanced customer service
With Lytx's solutions in place, Brandon Hire Station is able to provide its fleet managers with complete and real-time oversight into the exact location of its vehicles.
"My ambition now is to maximise the tools and data Lytx has provided to increase driver engagement in a positive way, perhaps recognising a regional driver of the month or year and ultimately an overall driver of the year," added Conway.
Conway also recognised that Brandon Hire Station's engineering and construction customers, including well-known names in the industry, are extremely safety conscious. "Implementing Lytx across our fleet demonstrates how we are equally safety conscious – bringing in the right company and the right tools to protect our employees, customers and the public as well."