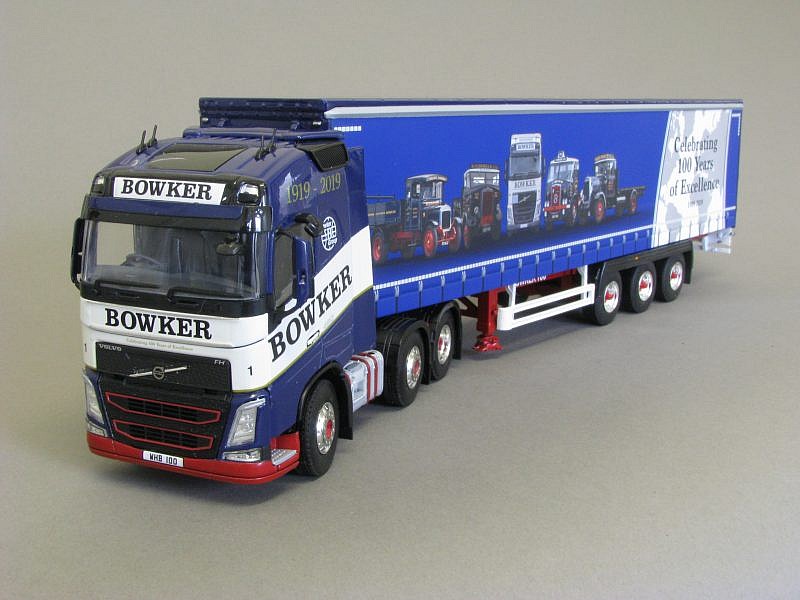 Customised promotional model vehicle specialists, Search Impex, are pleased to announce the release of a 1:50 scale Volvo FH Globetrotter (6×2) tractor unit with 3 axle, curtain trailer, customised in the eye-catching, centenary livery of W.H. Bowker Ltd.
Produced exclusively for Search Impex by WSI Collectibles, the model is a certificated Limited Edition (205 pieces) and has been commissioned by Bowker to celebrate their 100th anniversary in 2019. It is based on their real life Volvo FH units and curtain trailers bedecked in the special 100 years anniversary livery – two of which have recently joined the Bowker fleet.
W.H. Bowker Limited was established in 1919 in Blackburn – Lancashire, when William Bowker used his £75 war gratuity to buy his first vehicle. Hard work and sheer determination saw the business grow rapidly from its origins as a local haulier to become one of the UK's leading transport specialists with a reputation for an innovative approach to the needs of industry. Expansion into European haulage came during the early 1960's when UK manufacturers became increasingly successful in exporting their goods and Bowker saw the opportunity to introduce a reliable service to the Continent by conventional trailer. The first continental cargo movements began in December 1961 and continue to form an important part of the business.
Despite being one of the oldest UK companies specialising in national and international logistics, the business has most certainly kept pace with the times. Nowadays, Bowker runs a state of the art fleet comprising more than 160 vehicles (predominantly Volvo) and around 300 trailers and the Company also operates more than one million square feet of warehousing and storage at its seven sites across the UK.
Models, available from Search Impex, are priced at £149 each (including UK delivery & VAT). For details of availability of this and other models, collectors can visit the Search Impex website at www.search-impex.co.uk or call them on 01332 873 555