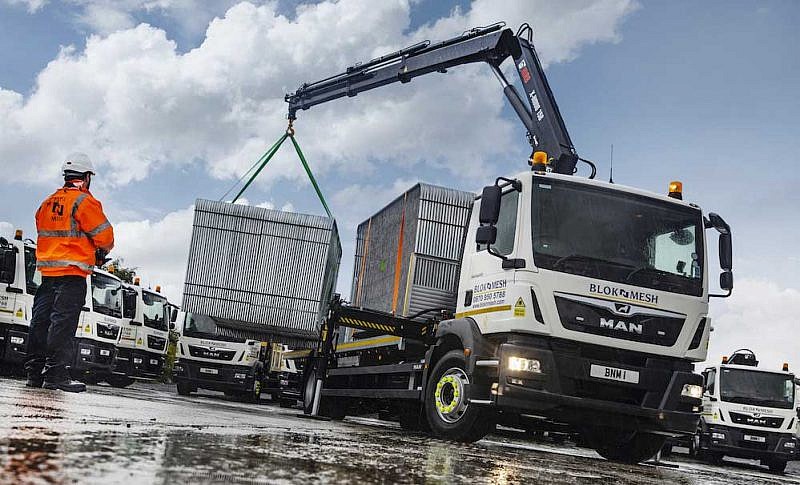 Manufacturer, supplier and installer of temporary fencing, site hoarding, barriers and traffic management systems, Blok 'N' Mesh, has just taken delivery of a new fleet of MAN commercial vehicles.
The Liverpool-based company has supplied the construction and allied industries with a range of temporary fencing products for over 25 years.
Through their network of nationwide depots, ranging from Devon in the South West through to Aberdeen in the North of Scotland, they offer a truly local service, supported by excellent stock availability and rapid delivery.
The 26 vehicles covering weight categories from 7.5 to 18 tonnes, specifically six MAN TGL 8.190 4×2 flatbeds and 20 MAN TGM 18.250 4×2 flatbeds. All of the TGMs feature chassis-mounted Hiab X-HiDuo 158 cranes.
This fleet of 26 new MAN vehicles is entering our business at an exciting time and as we grow our national and international footprint they will work delivering a range of Blok 'N' Mesh products on to our customer's sites
"This upgrade of a significant part of our fleet takes advantage of the benefits that new MAN vehicles offer. Early feedback, in terms of efficiency, support and driver comfort, is extremely positive." said Chris Maclean, transport logistics director at Blok 'N' Mesh.
Bodied by Brit-Tipp Limited of Warrington, Blok 'N' Mesh's new vehicles feature UK-manufactured lightweight yet robust aluminium flat bed bodies. Ensuring load security they all feature cross member, deck mounted, load restraint rings, galvanised removable side and corner posts and lockable ratchet strap boxes.