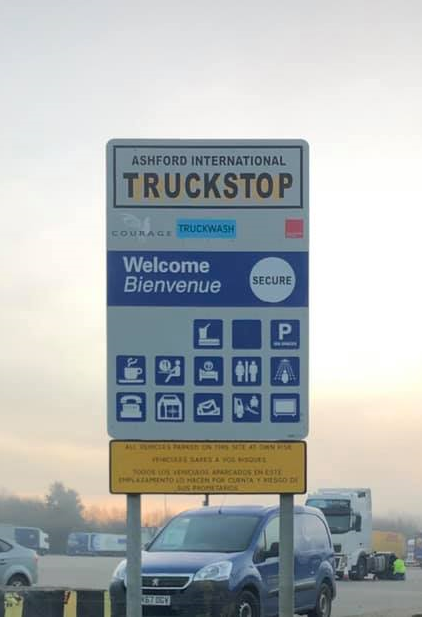 In 2018, Ashford International Truckstop was granted planning permission to develop a brand-new truck park, which will bring the capacity up to 660 spaces when the development is complete. The Ashford International Truckstop is based on the South Coast in Ashford Kent, 30 minutes away from the Port of Dover. Ashford Truckstop is open 365 days a year and offers an onsite restaurant & shop, open 24 hours a day. Bar, highly accredited HGV security, a fully equipped gym and many other amenities.
Darren Smith, General Manager at Ashford International Truckstop has commented "At the busiest periods we have been turning away up to 1000 lorries a week. We have put plans in place that will allow us to open a further 200 spaces in March 2019 to help relieve the parking situation for lorries in Kent. Also a complete development of the new site which we have designed with drivers in mind."
The 200 extra spaces, when open, will bring Ashford International Truckstop up to a total of 580 spaces.  With the full redevelopment on track to be completed by the end of 2019, making an astonishing 660 spaces in total. The new site which will be located down the road from the current site on Waterbrook Park, is set to have state of the art toilet and shower pods, restaurant, coffee station, arcade area, gym and extra security and new barrier systems with ANPR, real time space count, reservation management and a telephone payment system. The Truckstop will continue to be open 365 days a year and 24 hours a day. The current premises will be still fully operational until the site is complete.
After Brexit lorries are highly lightly to be held between J8 -J9 on the M20 and many drivers are concerned about having a space to park in Kent with facilities, especially now with fines being implemented for parking in laybys, industrial estates etc. Ashford International Truckstop are in discussions with relevant governing bodies to make sure that these lorries are able get to the new park at J10 so consequently will help to keep the roads clear in Kent.  This will ensure safer roads and less tired drivers who need proper facilities and places to eat and sleep.
With Brexit on the horizon Ashford International Truckstop is advising companies to open a parking account with them. The parking accounts have huge benefits to drivers as well as companies, including monthly invoices, monthly usage reports and alerts when drivers arrive and leave the site. Once a business has set up an account, they can make substantial savings on their parking costs too.  All bookings, both account holders and retail customers can be made via Mytruckparking.com which is available online and through all major app stores. Mytruckparking ensures ease of booking your parking space ahead of time and securing your space. It works on real time so there is not the worry of being double booked and being turned away. If you are interested in opening an account, please contact nicole@ashfordtruckstop.co.uk for more information.