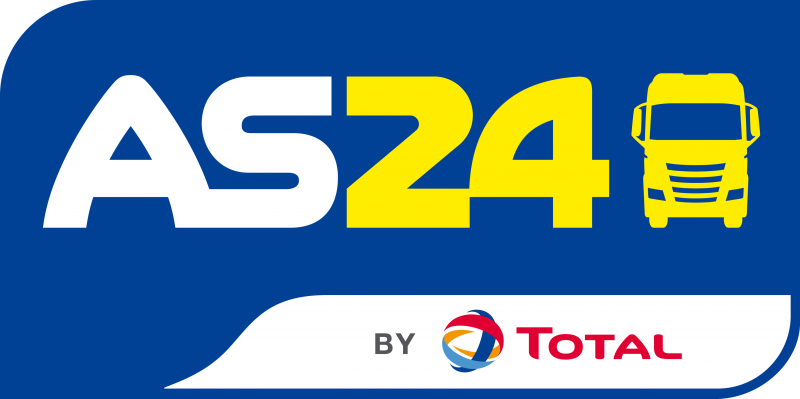 We are very pleased to announce an important milestone in our company's growth: with your AS 24 card, you now have access to 1,000 stations in 28 countries!
AS24 is a leading fuel card and European toll supplier to the Transport and Logistics sector. The company is owned by Total, the 4th largest oil company in the world and has an extensive network specially dedicated to HGV vehicles.
As a major player in the haulage sector for more than 30 years, AS24 has diversified its offers to meet the current needs of its customers. The company has also focused on expanding its network of fuel stations to ensure maximum mobility for drivers travelling across Europe.
These 1000 stations utilise our state-of-the-art chip and pin security technology to keep your transactions safe.  All our sites offer wide lanes and high-speed dispensing to ensure that your drivers are filling in the best dedicated HGV network in Europe.  Our sites cover all strategic axes for European road transport with the addition of a further 15,000 partner stations there to back us up.
As the European leader in fuel distribution for the transport and logistics sector, AS 24 has designed its service to optimise time spent on refuelling. AS 24 stations offer: 
wide lanes to facilitate HGV manoeuvres.
high-volume pump nozzles (10m3/h) to reduce waiting time during refuelling.
Double tank filling facilities for faster refuelling.
a fully automated service for a secure transaction with clear and multilingual instructions to facilitate the transaction
The largest pumped Ad Blue network in Europe
"We are very proud to be able to facilitate the mobility of our customers throughout Europe. It's very important for us to be able to offer AS24 stations to our customers the drivers, because I know that these stations are a guarantee of quality." Says Roland Saunion, Managing Director of AS 24 UK & IRL.
You can find all our available stations on our dedicated web portal: Station Finder. or driver focused app. Both these platforms allow customers to pin point their stations of choice. You can clearly see the products available (Diesel, Red Diesel, AdBlue®) and any additional services it offered (truck wash, shops, etc).
Beside these 1,000 stations, AS 24 is constantly working to expand its the  services it offers to its customers: These now include tachograph data recovery via Tak & Drive terminals, access to secure parking facilities and to truck partner wash centres, automatic tyre diagnosis with Fleet Diag 24 in partnership with Michelin, and much more to come!
For more information: https://www.as24.com/en/network-AS24/network-european