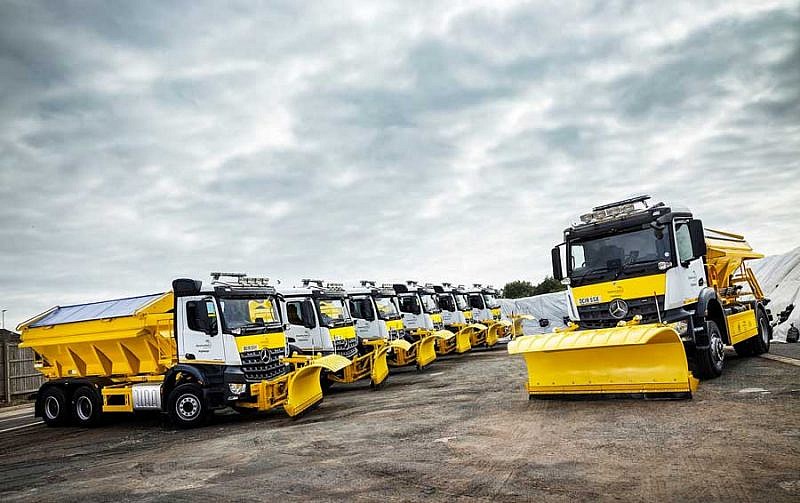 A fleet of Mercedes-Benz gritters will be helping to keep the roads of Cheshire East clear of ice and snow this winter after Ringway Jacobs placed an order for eight new vehicles.
All of them are based on muscular Arocs chassis with ClassicSpace S-cabs and Econ Engineering bodywork. Four are double-drive 2633 26-tonners with 10.7-litre in-line six-cylinder engines producing 326hp.
The remainder are 4×4 18-tonne 1824 AK variants with high-torque, 175kW 238hp 7.7-litre straight-sixes. Econ Engineering's bodies – the six-wheelers have 9m3 capacities, while the four-wheelers offer up to 6m3 – are purpose-designed to spread de-icing dry rock salt at a width of up to 12 metres.
For snow clearance, Econ's 'E' Plough boasts a power angling function which allows the operator to alter the direction in which the snow is ejected without having to make manual adjustments on the move. The Arocs have also been specified with Econ's E-Drive route guidance technology.
This operates the spreader automatically, allowing the driver to concentrate on the road ahead in challenging driving conditions. Further underlining Ringway Jacobs' commitment to safety, the trucks are equipped with recordable five-point camera systems, 'turning left' warning alarms, and nearside proximity sensors to protect vulnerable road users, as well as a reverse radar which supplements the standard-fit reverse alarm and camera.
Ringway Jacobs' Head of Fleet David Bonehill commented:
"We favour Mercedes-Benz chassis for gritting applications because of their inherent reliability, and for the power they give us for pushing on the plough. "The ride height of the Arocs is an added bonus, as the truck's extra ground clearance and relatively elevated seating position makes life that bit easier for drivers when conducting snow clearing and gritting operations," he added.