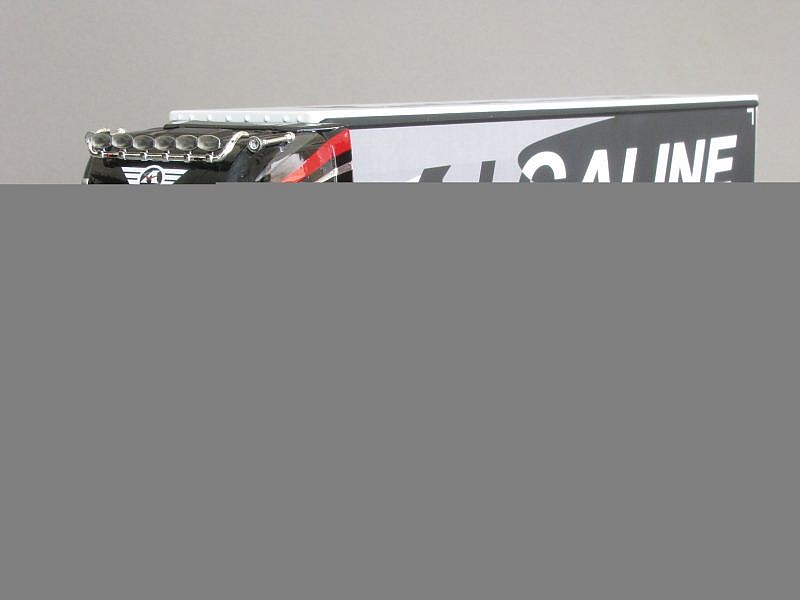 Promotional model trucks specialist, Search Impex, is delighted to announce the
release of a 1:50 scale Mercedes Actros MP4 Gigaspace (4×2) tractor unit with 3
axle, regular curtain trailer, customised in the distinctive livery of Kent-based
operator, Alcaline Transport UK Ltd.
Commissioned by Alcaline to celebrate the 30th anniversary of the Company in 2023,
this is the first time an official production run of models has been made for this
operator and they have been produced exclusively for Search Impex by WSI Models
as a certificated Limited Edition (135 pieces).
Established in 1993 in Lympne, near Hythe, Kent (and now with operating centres in
Italy and The Netherlands), Alcaline UK is an international haulage company offering
specialist road, as well as air services, throughout Europe, together with significant
on-site warehousing and storage facilities for customer use. Whilst the major
operational focus is on the Anglo-Italian market, Alcaline also serves customers in
France, Belgium and the Netherlands. And, by working with established trading
partners in other areas of Europe, the Company can also cater for customers'
distribution needs in a number of additional markets including, currently, Switzerland,
Malta and Spain – and plans are now well underway to develop significant business
in the German, Austrian and Polish markets.
With a UK fleet of 120+ vehicles and 240+ trailers – which includes one of the largest
fleets of Mega trailers in the UK, as well as steel coiler trailers (run mainly by the
Dutch operation), Alcaline's clientele comprises a number of Blue Chip customers,
together with several manufacturers in the automotive and aviation industries. Full
loads, part-loads and groupage services to Europe are available as standard, as are
express next day "Just in Time" deliveries to Belgium, France, Switzerland and
Italy. And with the offices based about ten minutes from the Channel Tunnel
Terminal and only thirty minutes from the Port of Dover, the location is perfect!
Impressively, express same day "just in time" deliveries can also be offered to
France, Belgium and The Netherlands. Indeed, such is Alcaline's commitment to
customer service and the handling of time-sensitive transport, the Company also
purchased and operates a helicopter with IFR capability – meaning the pilots are
qualified to fly primarily by reference to instruments (and therefore under Instrument
Flight Rules, i.e., IFR), rather than by outside visual references and so under visual
flight rules (VFR). This means the helicopter can fly in or above clouds during poor
weather conditions and it can also fly at night. Capable of carrying up to 450kg / 1.2
cu m of freight, the helicopter freight service is primarily aimed at providing urgent &
express means of transport for low volume production materials for the automotive
and pharmaceutical sectors – but the service can, of course, provide assistance for
any industry where time is critical.
The Mercedes Actros Gigaspace on which the model has been based is one of three
model truck releases which also includes an Iveco S-Way (4×2) and curtain trailer
and a Volvo FH 500 Globetrotter XL (4×2) and curtain trailer – all in very different and
striking Alcaline liveries. The Mercedes unit is finished in Obsidian Black (a paint
with just a hint of metallic finish) and embellished with red, silver and metallic grey
vinyl graphics. This truck is paired with what Alcaline UK call their "Black & Grey"
trailer livery.
Models, available from Search Impex, are priced at £169 (including UK delivery &
VAT).
For details of availability of this and other models, collectors can visit the Search
Impex website at www.search-impex.co.uk or call on 01332 873555.